Husband plants 6000 trees to honor late wife – 15 years later, photos reveal true motive
Janet was the love of Winston Howe's life.
In fact, it was love at first sight for the soul mates, which grew stronger with each passing day.
The couple got married in 1962 and loved each other unconditionally.
Their love for each other was so great that people in their community questioned why their marriage had remained so happy over the years.
But their happiness did not last forever. After 33 years of marriage, Janet died of a heart attack.
After their marriage in 1962, Winston and Janet moved into a charming farmhouse on 112 acres in the English countryside.
Soon after, Janet gave birth to their son, and over the years the couple came to share a bond that most only dream of.
Their relationship was strong and solid, their son was healthy, and their farm flourished.
For over three decades Winston and Janet's life in their dream home in Wickwar, Gloucestershire was perfect.
But things were about to change.
In 1995, Janet suddenly passed away when she unexpectedly suffered heart failure at just 50 years old.
Winston was devastated and felt his whole world had collapsed. The love of his life was gone.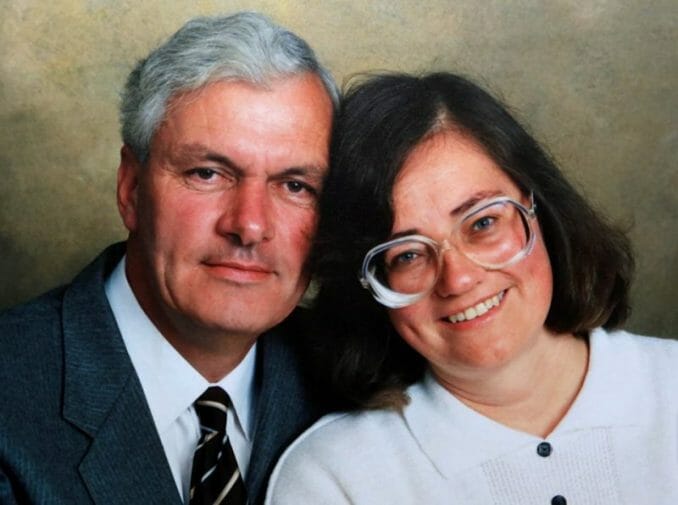 Winston Howes with wife Janet in 1994 (Photo: Facebook)
To pay homage to his beloved wife, Winston planted 6,000 oak trees in a field near the home they had shared for so many years.
Winston wanted to create a private and sacred place that he and his son could visit on difficult days. So Winston began planting trees – a lot of trees.
But what makes Winston's tribute so special is what he hid inside the forest — a heart-shaped meadow.
His beautiful declaration of love was kept hidden from the world for 17 years. Winston had achieved his goal, but the true motivation behind his work remained a mystery hidden in plain sight among the trees.
In 2012, Winston's secret was finally discovered when a man named Andy Collett was flying in his hot air balloon. He looked down and saw the heart from the sky.
According to General Knowledge & Interesting Facts, Winston's beautiful memorial was his very own secret garden for years, until Andy accidentally crossed the land.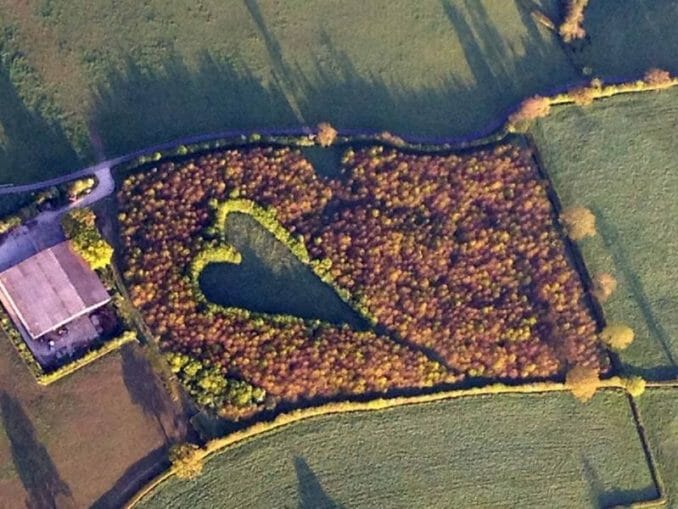 Winston Howes' memorial meadow for his late wife Janet (Photo Facebook)
The tip of Winston Howes' heart points toward Janet's childhood home, the village of Wotton Hill.
Winston also built a hedge around it, and every spring daffodils bloom in the center.
"I thought it was a great idea – it was a flash of inspiration – and I planted several thousand oak trees. When it was completed, we set up a seat in the field overlooking the hill near where she used to live," Winston emotionally told the Daily Mail.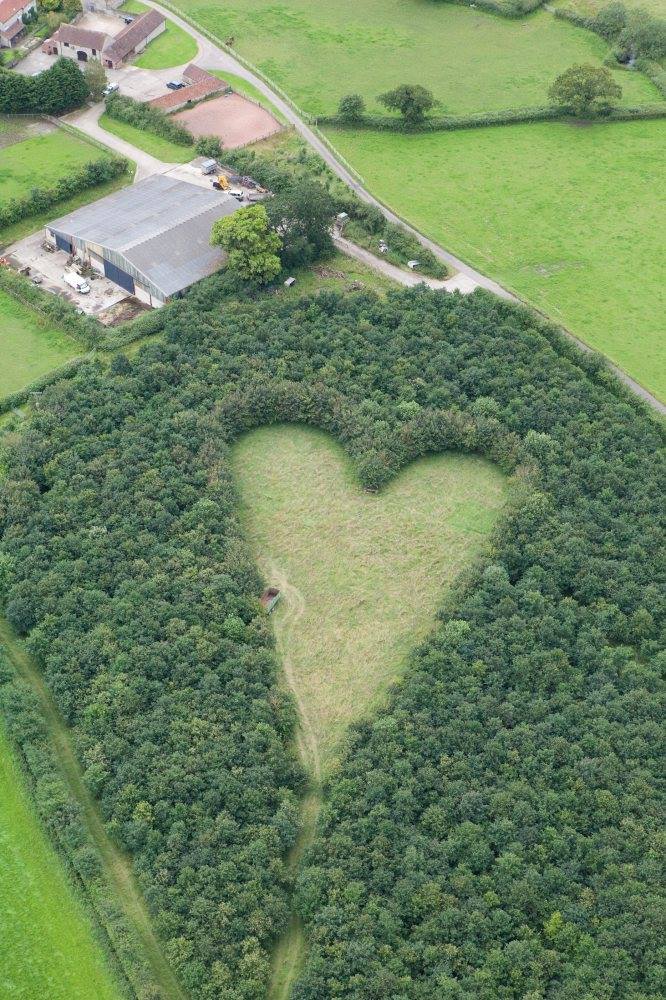 Posted by British Heart Foundation on Friday, August 28, 2015
Winston said he sometimes goes to the heart-shaped meadow to think back to the good times he had with Janet.
"It's a beautiful and lasting tribute to her which will be here for years," Winston said.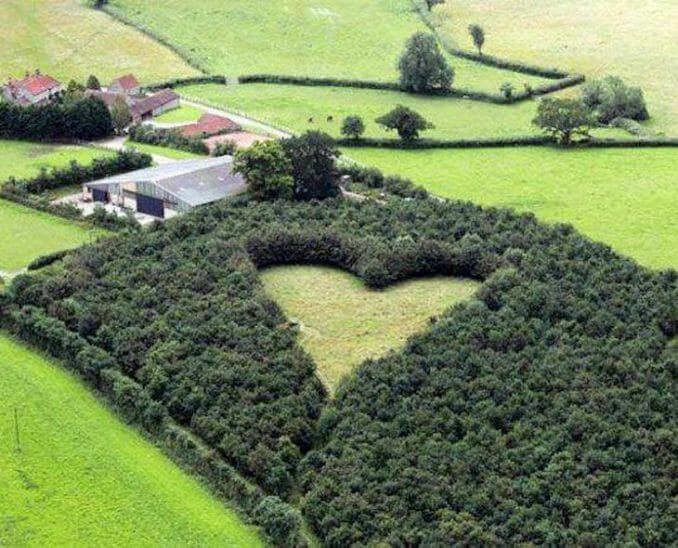 The heart created by Winston Howes stands out in the English countryside. (Photo: Facebook)
Although nothing can bring Janet back to life, Winston can be sure she would love the heart-shaped meadow created just for her.
And I have a feeling that heaven could be very similar to the place he created for his beloved wife.
Losing a loved one, especially a spouse you've built with all your life, is a nightmare. But this story shows that good things can come out of tragedy.
We just have to wipe away our tears in order to find it — just like Winston Howes did for the love of his life, Janet.